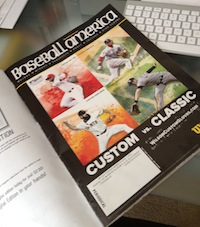 Last month (March 2012) Baseball America writer Conor Glassey published a news article about the iProScout Baseball iPhone App on the Baseball America website.  Click Here to Read More.
The article may also be found in the Latest Issue of Baseball America Magazine.
An Excerpt:
The app allows scouts to enter biographical information on a player and, as soon as the scout chooses a position for the player, the app prompts the scout to fill out the player's evaluation card.

For position players, the scout is able to grade out each of the player's five tools and has fields to choose from descriptive words for several other categories like stance, stroke, power frequency, baserunning instincts, fielding range and more. For pitchers, scouts are able to grade each pitch and control. They also have options to choose from for several categories, some of which include feel for pitching, poise, mound emotions, aggressiveness, arm actions and delivery.

The app automatically calculates the players OFP (with an option for manual adjustments) and gives the scout the option to sort all his players by either name, position or OFP.