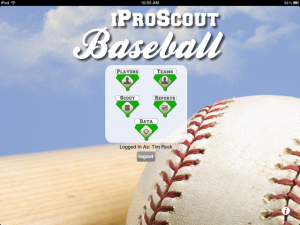 Get a sneak peak at the New iProScout Baseball iPhone/iPad App now with Team Sheet capability attached to the original iProScout Baseball App! It provides another great Scouting option for users that want to use the App on their iPhone or iPad! Only Days Away!!!
One Scout said: "This is coming at a perfect time with all the college Scout Days coming up! I can put in a teams roster information before I leave my home and be locked and loaded for the Scout Days! Nothing like the feeling of having your Scout work 50% to 100% done before I leave the yard! I mean all I do is put in the information on one page and the iProScout Baseball App does the rest! It calculates the OFP and puts it in a report format that I can easily e-mail to myself so I can copy and paste the report information into my teams scouting database or I can e-mail it to anyone else that needs to see the report."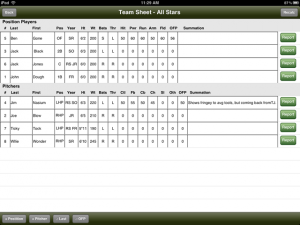 It is also great for College coaches who spend many hours recruiting. It's a valuable tool that keeps getting better!
Scout Team Coaches!!! You have lots of players trying out for teams in various age groups in your organization, the iProScout Baseball App can help you keep track of all the information in one place at tryouts. You can even e-mail a player with an evaluation. It's another thing of value organizations can provide their players or players trying out. Time is money! Coaches, just think how easy it will be for you, once you have done the player evaluation, to email it to college coaches interested in your evaluation of the player. Or email it to your player so he can keep track of areas for improvement. Look how tech forward your organization will look!
It's also a great learning tool for those who are trying to get into professional scouting, as well as anyone within the professional baseball scouting field! Bloggers etc.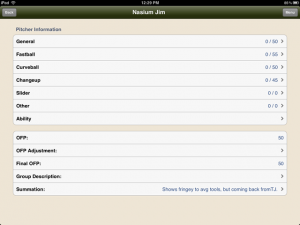 It's so easy to use and the larger screen and keyboard are awesome on the iPad! The Team Sheet format allows you to easily, on the same page, add player info, scroll up and down or side to side, sort alphabetically or by OFP and recalculate. And if there is a player or players from the team you want to do a full report on all you do is select the Report button on the right of the player and bingo!
One important reminder!!!!
If you are going from using the iProScout Baseball App on your iPhone and are switching to use the iProScout Baseball App on your iPad, go to the data page button and press the "Send Data" button. This will save all your data and once you switch over to the ipad you can go to the data page button on your iPad and press the "Get Data" button and it will download all the same player information to the iPad. It is always a good practice to "Send Data" after your work for the day or switching in between your iPhone and iPad.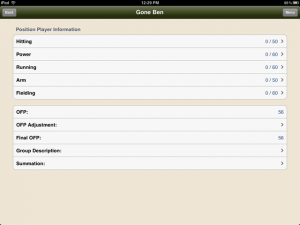 Tim Rock
iProScout Baseball